What is low voltage Switchgears
The equipment which is used for switching, protecting and controlling in any electrical circuit is known as switchgear. Switchgear includes high voltage switchgear, medium voltage switchgear and low voltage switchgears.
Today we will look at low voltage switchgear. The low voltage switchgear provides short-circuit and overload protection through low voltage power circuit breakers (LV-PCBs) with integral trip units. These low voltage circuit breakers are typically through-the-door, drawn-out devices.
So let us see which electrical components are used in low voltage switchgear. The main components of Switchgear are ACB, MCCB, Contactor, Relay, SPP, Capacitor, Starter, Isolator, Switch Fuse Unit, MCB, ELCB, MPCB, HRC and HBC Fuse and Fuse Base and Changeover Switch.
Air circuit breaker is the primary protection device of any switchgear. Any high power consuming device like panel board, power is distributed through ACB. This device cuts off the main circuit during earthfault, overcurrent, undervoltage and short-circuit thereby preventing the circuit connected through it from failing/damaging.
Air circuit breaker is of -pole or -pole. It ranges from amp to amp, molded case circuit breakers are used to protect high load current equipment.
MCCB protects high load current devices from fault and overloading. The tripping mechanism in MCCB is thermal based, microprocessor based or electronically based MCCB -pole or -pole. Contactor is the most demanded component of switchgear.
This is an electrically operated switch. Inside the contactor is an electromechanical system connected to the coil. It works on a predefined supply being supplied to the coil.
A relay is a switching device that is electromechanically and electronically controlled to open or close a relay. There are different types of relays such as thermal relay, CT operated relay, solid state relay, hybrid relay, electromechanical relay and electronic relay single phasing preventer (SPP).
Failure of any phase in the phase can result in damage to the motor wiring or circuit of the motor. The SPP detects the fault in phase and blocks the current in case of failure in any phase thus preventing damage to the motor.
To maintain the power factor, capacitors are used. Capacitors are usually air cooled or water cooled which are dry type, MPP (metalized polypropylene) type and APP (all polypropylene) type.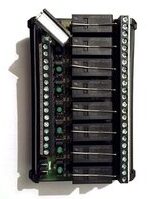 Dole Starter means Direct Online Starter. It consists of a contactor and a relay. Star delta starter consists of contactor, relay and timer.
In any circuit if the current increases beyond a predetermined limit, the relay in the starter trips hence blocking the flow of current through the contactor thus preventing the motor from getting damaged.
To operate a circuit manually (on/off), isolators are used. There is no protection or tripping device in the isolator. Its operating system is manually independent, quick make and quick brake.
Switch fuse unit is a complete unit to control MCC panel and PCC panel. It is used for power distribution and protection of electrical equipment. It is generally of -pole, -pole +neutral and -pole.
MCB, Miniature Circuit Breaker. It is an electromechanical device that protects low electrical circuits from over current. MCB has tripping mechanism which can be easily reset. MCB stands for -pole, -pole, -pole and -pole.
Earth Leakage Circuit Breaker
Earth leakage circuit breaker is a protection device which protects the circuit from fault and earthing and from electric shock to human beings. It detects a fault in the circuit and trips it, blocking the flow of current hence preventing damage to the circuit.
MPCB, motor protection circuit breaker. It protects the motor from short circuit current and overload current HRC fuse means high ripping capacity fuse. In any circuit,
the fuse is a protection device. Inside the porcelain body, there is a fuse wire or element that allows short circuit current or heavy overcurrent to flow for a period of time. Connected to it disconnects.
The fuse is placed inside the fuse base. change over switch. Through this, any electrical load can be used two power sources, one by one. In this, in case of one supply failure, the other can be used. This is the complete system of this switchgear.
Why You need Low Voltage Switchgears
Low voltage switchgear is a three-phase power distribution product. This is designed to safely, efficiently, and reliably supply electric power at voltages up to 1,000 volts and current up to 6,000 amps. 
Low voltage switchgears is often found on the secondary (low voltage) side of a power distribution transformer.
Functions of low voltage switchgear are Isolation, protection, and system modification via switching.
Its components include circuit breakers, changeover switches, fuses, overload relays, and disconnectors.
These switchgears measure, control, and regulate the electrical system in households or industrial or commercial establishments, maintain voltage current and protect the system from faults.
So The circuit protection devices distribute power to various sections of a facility and the electrical loads within those sections.
Therefore, the reliability of the low voltage system depends on the LV switchgear.
Basic functions of Low Voltage Switchgears areas –
| Electrical protection against | Isolation | Control |
| --- | --- | --- |
| • Overload currents | Isolation clearly indicated by an authorized fail-proof mechanical indicator | • Functional switching |
| • Short-circuit currents | A gap or interposed insulating barrier between the open contacts, clearly visible | • Emergency switching |
| • Insulation failure |   | • Emergency stopping |
| • Over-voltage protection&Under-voltage protection are provided by specific devices |   | • Switching off for mechanical maintenance |
Regular maintenance services should be scheduled to ensure reliable ongoing operation.
So The Balaji Switchgears carries out a visual inspection, AMC, retrofitting, and other commissioning support for LV Switchgear & automation components.
LV switchgears from Balaji Switchgears product range includes
Balaji Switchgears, a leading technology leader (Distributor and System Integrator Industrial Automation and Switchgear products),has collaborated with a global Switchgears brand & Manufacturers like Socomec, Schneider Electric to bring world-class products to its customers across India.
@WE ARE HERE TO HELP YOU ANYTIME.
Reach out for any questions, need more details or technical support.
Contact Us 
E-mail :- mktgindia@balajiswitchgears.com