Human Machine Interfaces (HMIs) are used as an operator control panel for regulating Programmable Logic Controller (PLCs), Remote terminal units (RTUs), and in some cases is direct to Intelligent Electronic Devices (IEDs). 
HMIs replace manually activated switches, dials, and other controls with graphical representations of the control process and digital controls to influence that process. 
The graphics and instructions on the screen assist by converting human instructions into machine language which helps them to operate accordingly like in ATM, our touchscreens on Smart Phones and so on. 
It helps in efficiently controlling work even from a remote location, ensuring the safety of the workers in an industrial plant. It displays real-time graphic information like the positions of machines, ambient temperature, and other parameters with the assistance of software.
HMIs utilized in the industrial context are mostly screens or touchscreens that connect users to machines, systems or devices. Factory operators use HMIs to control and automate machinery, as well as their production lines. 
HMIs can be simple screen displays mounted on machines in the factory, advanced touchscreens, multi-touch-enabled control panels, push buttons, computers with keyboards, mobile devices or a tablet. 
They are extremely useful for industries related to manufacturing, pharmaceuticals, food and beverages, and many others, which need continuous monitoring of temperature, humidity and pressure.
Most SCADA (Supervisory Control and Data Acquisition) systems- the main, overall control system in a factory or plant that is responsible for the regulation of all the complex operations taking place; rely on embedded HMI components in order to operate efficiently.
Traditionally, in order to integrate a manufacturing line with an HMI, the HMI had to be connected to a Programming Logic Controller (PLC) and the HMI displayed the data received from the PLC in-turn giving the PLC input from users. 
These graphical displays tended to be very simple and thus help in bridging the digital divide among the workers. People without being engineers can be suitably trained and encouraged to use HMIs to interact with machines and give error-free orders
Many modern-day industrial HMIs being developed for the smart-factory environment are multimedia rich. They allow users to receive integrated SMS alerts about the status of machines, email alerts, and also watch integrated videos of the processes on the factory floor. 
More sophisticated HMIs allow for remote control of multiple machines and operations on multiple sites, as well as analysis of factory operations. HMIs can also display dashboards with manufacturing and plant-related KPIs.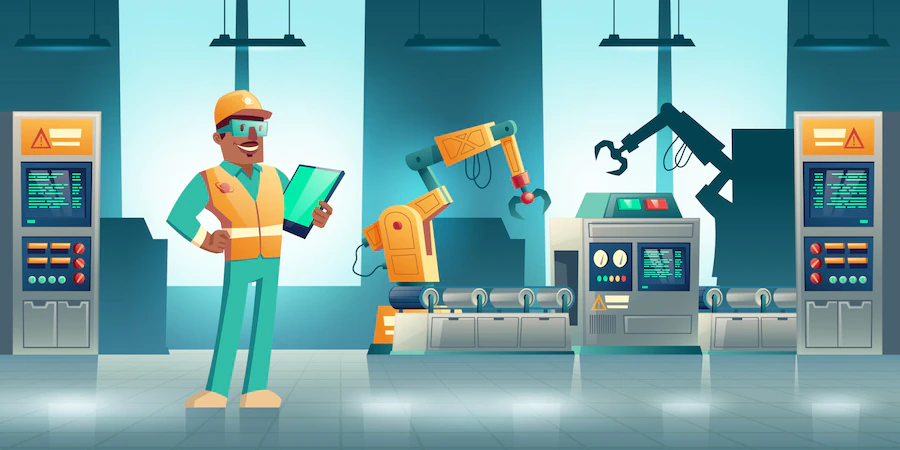 Thus the role of the HMI is rapidly evolving as new technologies are continuously being integrated. Also efficient HMI usage leads to less downtime of machines and more information in the hands of the owners and workers, beyond the specialists. 
It bridges the digital gap efficiently and includes the workforce in the understanding of the machines on the shopfloor.