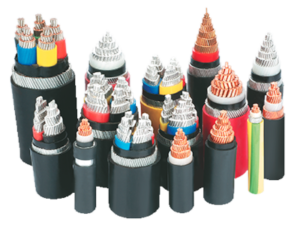 Low-voltage cable refers to electrical wires and trimmings used in applications that require less infrastructure—this includes phones, security lines, fire alarms, intercoms, and the internet. Insulating and shielding low voltage cable substances used in these cable types comprise Low Voltage XLPE cable, PVC, LSF/LSOH, and elastomer compounds.
PVC / XLPE insulated cables conforming to IS:1554-I / IS:7098-I, BS:6346, IEC:60502,
BS:5467, BS:6724 and Customer specific requirements
Sizes: Single Core 1.5 to 1000 sq. mm ; Multicore 1.5 to 630 sq. mm
Voltage Rating: 1100 Volts
Available in wide range of operating temperature ranging from -40°C to 90°C.
Best suited for fatigue damages caused due to vibration or loading cycles